Empowering Businesses with Dynamic Odoo Website Development
In the Age of Information, a robust website is the bedrock of business credibility and growth. At Bizople, we offer Odoo Website Development services that position your business uniquely in the global market. Our team's expertise in responsive design, multi-lingual development, e-commerce, and seamless Odoo integration ensures your website's success and global reach.
The Age of Information: A Technological Revolution
We are fortunate to live in an era where technology has revolutionized our daily lives, making tasks more accessible and convenient. The "Age of Information" has granted us unparalleled access to knowledge and services at the click of a button. In this digital landscape, websites have become the gateway to businesses and their offerings. A well-developed website is now indispensable for businesses, providing credibility and serving as a launchpad for expansion.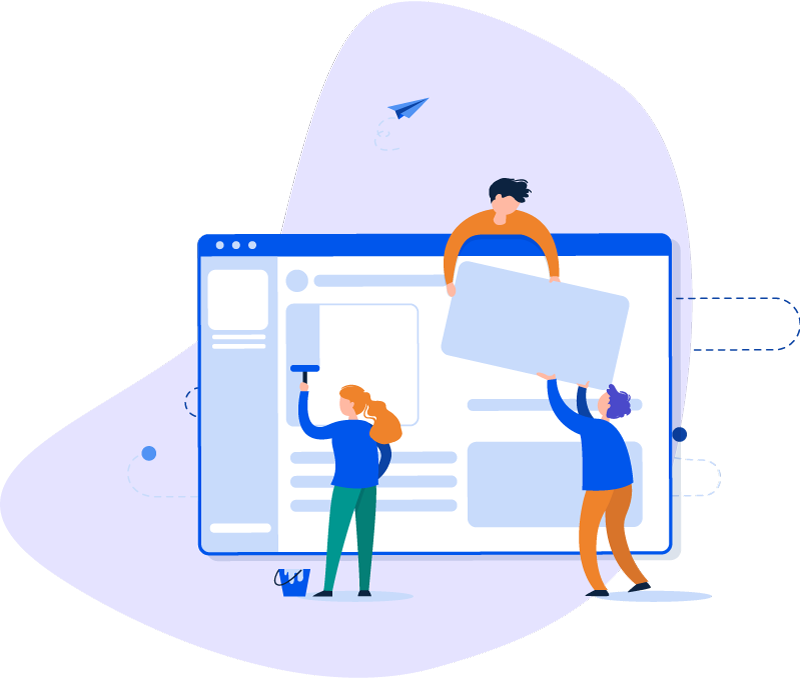 Bizople's Belief: The Significance of a User-Friendly Website
We firmly believe that a robust and user-friendly website is a vital component for a business's success in today's competitive environment. The development approach of a website defines its flexibility, determining how easily a non-technical person can maintain it. Given the dynamic nature of information, continuous website updates are essential to attract the right audience and disseminate information globally to the right people.
Unveiling Odoo Website Development: A Path to Success
Bizople's web development team boasts extensive experience in designing websites that form the heart of our customers' businesses. Our web development services, powered by Odoo modules, encompass:
Responsive Website Designing :

As the world increasingly relies on smartphones, having a responsive website is key to attracting success. Embracing this trend ensures seamless access to your website and content on any device.

Multi-Lingual Website Development :

The internet has transformed businesses into global entities. Catering to customers in different parts of the globe requires engaging with them in their local language. Our expertise in multi-lingual websites fosters global reach and customer connections.

E-Commerce Website Development :

Embracing the "Click and Buy" culture, an e-commerce website is a must in today's world. Our team crafts easy-to-navigate e-commerce platforms that offer a seamless shopping experience to your customers.

Integration of Website with Odoo App :

An integral part of our Odoo Website Development services is seamless integration with Odoo apps. This synergy enables businesses to leverage creative apps and expand their client base effortlessly.
The Bizople Edge: Nurturing Your Online Success
At Bizople, our mission is to empower your business with a website that not only drives credibility but also propels growth. Our web development experts follow a unique approach to ensure your website's success:
Understanding Your Vision :

We deeply comprehend your business goals, target audience, and industry dynamics to tailor a website that aligns perfectly with your vision.

Crafting a Seamless Experience :

Our team combines design creativity and technical prowess to create responsive websites that captivate users across devices

Embracing Global Reach :

By developing multi-lingual websites, we connect you with a broader customer base, transcending geographical boundaries.

Navigating E-commerce Success :

: Our e-commerce websites are designed for smooth navigation, enabling a seamless "Click and Buy" experience for your customers

Integrating with Odoo :

We ensure that your website integrates seamlessly with Odoo apps, unlocking multiple possibilities for your business. Integrating your Website with Odoo shall allow smooth & flexible back-end operations, giving you the power to have more control over your e-commerce business
Empower Your Business with Bizople's Dynamic Web Solutions
In the digital era, an exceptional website is an indispensable asset for your business's credibility and global expansion. Bizople's Odoo Website Development services offer a comprehensive approach to create, maintain, and evolve websites that resonate with your audience and drive growth.
Embrace the power of dynamic web solutions and embark on a transformative journey with Bizople. Together, let's elevate your online presence, connect with global audiences, and unlock the true potential of your business in the digital realm.
Checkout our Awesome Odoo Apps
Save your time and development cost use our odoo Apps
Explore Bizople's Application Specific Odoo APPS & THEMES
Kickstart your Business Enhancement journey leveraging ready-to-use Odoo Modules