Best Odoo ERP Customization Services for Diverse Industries
In today's dynamic business landscape, the significance of Odoo ERP customization cannot be overstated. As companies from various industries seek to streamline processes, optimize operations, and enhance customer satisfaction, the need for tailor-made ERP solutions becomes evident. At Bizople, we understand that each business has unique requirements, and our seasoned experts are dedicated to delivering bespoke Odoo ERP customizations that precisely meet the specific needs of our diverse clientele.
Industry-Specific Requirements: A Key Driver for Customization
For manufacturing companies, efficiency and resource optimization are critical goals. Implementing an ERP system that simplifies processes and reduces resource-related tasks allows them to focus on future planning and optimization – vital for business growth.
Conversely, restaurants prioritize customer satisfaction as a primary objective. Their ERP system must facilitate service improvisation and cost-effectiveness assessment based on customer feedback.
Understanding the unique demands of each industry and structuring the ERP system accordingly is paramount to successful implementation. Customization is the cornerstone for achieving this level of adaptability and efficiency on a single platform. Odoo, with its diverse modules and strong community support, serves as an ideal foundation for designers to create tailored solutions that align with the distinct requirements of each business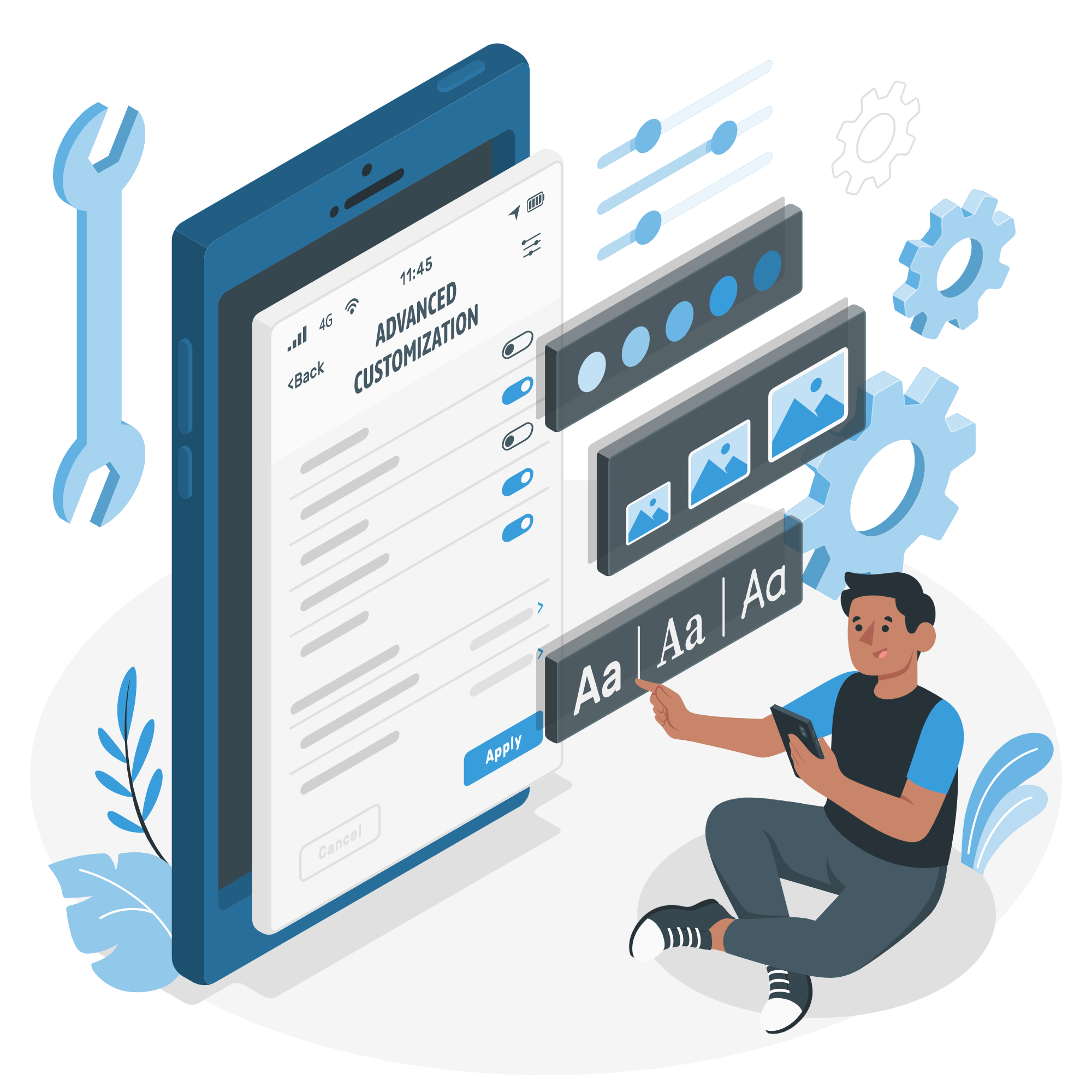 The Art of Odoo Customization at Bizople
At Bizople, our seasoned Odoo experts work closely with our customers to deliver flexible and customizable solutions. Our range of Odoo customization services includes:
Customer-Specific Odoo ERP :

We craft ERP solutions that align precisely with each customer's unique needs, empowering them to optimize processes and enhance productivity.

Odoo E-Commerce Flexibility :

Our custom E-commerce solutions cater to the specific demands of each customer, providing a seamless online shopping experience for their users.

Customized Document Management System :

We design efficient document management systems tailored to streamline workflows and improve document organization.

Custom-Designed Websites :

Our expert web designers create visually appealing and highly functional websites that accurately represent our customers' brands and offerings.
The Bizople Approach: Tailoring Solutions for Success
At Bizople, our approach to Odoo ERP customization is centered around customer success. We follow a strategic process to ensure that our customers receive an optimized solution that can be further customized to meet their evolving needs. Our approach includes:
Understanding Customer Requirements :

We conduct in-depth consultations with our customers to comprehend their business goals, industry dynamics, products or services, and end-user expectations.

Research and Suggestion :

Armed with valuable insights, we conduct thorough research to present our customers with the most suitable and relevant suggestions for their ERP customization.

Collaboration and Implementation :

Throughout the implementation phase, we work closely with our customers, ensuring transparency and alignment with their vision and expectations.

Delivering Bespoke Solutions :

Our team of experts brings creativity and technical prowess to the table, delivering tailor-made solutions that precisely cater to our customers' unique requirements.

Continuous Support :

At Bizople, our commitment extends beyond the initial implementation. We provide continuous support and assistance to ensure our customers' ERP systems remain optimized and relevant.
Empowering Business Growth through Customized Odoo ERP Solutions
As businesses strive to stay competitive and innovative, Odoo ERP customization emerges as a vital tool for achieving organizational goals. At Bizople, we take pride in our ability to understand the intricacies of diverse industries and deliver customized solutions that drive efficiency, customer satisfaction, and overall business growth.
With our best-in-class experts, state-of-the-art approach, and unwavering dedication to customer success, Bizople is the ideal partner for businesses seeking seamless Odoo ERP customizations. Embrace the power of tailored solutions and unleash your business's true potential with Bizople as your trusted Odoo ERP customization partner.
Explore Bizople's Application Specific Odoo APPS & THEMES
Kickstart your Business Enhancement journey leveraging ready-to-use Odoo Modules
Visualise your data with BI tools of Odoo
Discuss - Get Demo for the ERP with more such features